Women Open Mic Entertainment Night...some highlights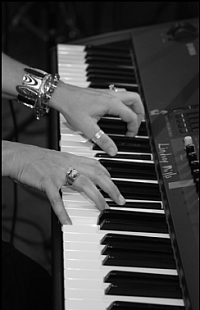 Many talented female musicians and spectators continue to gather and support the Women's Open Mic Entertainment Night in Fonthill, Ontario. Lindsey Mills started the Women's Music Network in 1988 in Windsor, Ontario and when she moved to the Niagara Region she continued her journey and added a new addition to her brand and cofounded the Women's Open Mic Entertainment Night.
Here are some highlights and Newspaper Articles from freelance writer Bronwyn Lane:
Another full house of gifted performers flooded Fonthill for the Women's Open Mic Entertainment Night armed with guitars, banjos, poetry books and fingers set to tickle the ivories.
On the last Friday of each month, Lindsey Mills hosts an exciting evening where local women of all ages come together to celebrate with music, poetry, comedy and more. Mills, a charismatic music educator, director and performer from Fonthill, created the Women's Open Mic Entertainment Night (WOMEN) in response to the absence of women in performance.
Lindsey is very active in the world of Music and Networking... ahead of her time in many faucets of the music business and the networking world... she embraces, encourages and empowers female musicians, of all ages, to be a part of the wonderful world of performance.
Lindsay Alward opened the evening with two original songs, "Just Knowing" and an unnamed piece that she said was "too new for a title." Lindsay played an energetic acoustic guitar with melodic vocals. What a wonderful way to start the night!
Next up, Moira Cairns performed a heartfelt on "Go Light Your World" by Chris Rice. Moira's fine keyboarding and sincere vocals were dramatic and pleasant to listen to. Moira stayed on stage to accompany Robin Pirsons' sweet voice singing "River" by Lights.
Kendall Gallagher was up to the mic next with an unforgettable Swift's "Best Day" followed her take on "Wide Open Spaces" by the Dixie Chicks. Kendall's pink acoustic guitar and beautiful young voice left the audience hoping for more at the next Open Mic!
Up next was Linda Bover, accompanied by Lindsey Mills on the keys, with the first holiday song of the evening, a piece by Amy Grant and Chris Edent titled "Breath of Heaven."
More holiday music was to follow with first-time performers Debbie and Corrine Schroeder. The mother-daughter duo brought down the house with the traditional "Let It Snow" and the Kansas classic "Dust in the Wind". Corrine sang lead vocals while Debbie backed her up with some acoustic guitar, piano and harmonies. These two showed what Open Mic is all about – getting up and sharing your talents!
Yours truly was up next. I played an enthusiastic blues run on the keyboard - a crowd favourite and definitely fun for all.
Another first timer, Rae Ann Rosenthal sang a truly lovely "What Child Is This?" by William Chatterton. Accompanied by her friend Alli Fox, Rae Ann sounded like a real pro. Was it really her first time?
Alli stayed up at the ivories for a crowd pleaser, her cover of Pink's "Glitter In The Air". With the addition of some passionate keyboarding from Lindsey Mills, Alli blew the roof off of the venue belting out John Sullivan Dwight's version of O Holy Night.
Next, the strong vocals and acoustic guitar by Abby Carr brought the audience back to reality with covers of "Hello I'm In Delaware" by City & Colour and "Unwritten" by Natasha Bedingfield.
Joanne Spence, a regular at Women's Open Mic, asked for some audience participation with her Plane" by John Denver and "Early Morning Rain" by Gordon Lightfoot. Joanne's folkloric voice and melodic banjo are a fun and fresh part of the evening.
Switching things up a bit came Kathy Wilms, reading an engaging poem "These Women Poets" penned after she attended an inspirational poetry workshop.
Back from "The Hammer," Twinny Jayde's polished cover of "What Have They've Done To My Song" by (Melanie Safka) brought about an enthusiastic response from the crowd. A Jayde original, "Brilliant The Star" featured not only savory vocals and textured guitar but an obvious penchant for songwriting.
Kelsey Kerr pumped out some gutsy vocals on "Dreams" by Stevie Nicks and the second that evening. Enhanced by a transcendent Lindsey Mills on piano, Kelsey was a pleasure to listen to.
Lindsey stayed at the keyboard to share an original song dedicated to her late father, Malcolm, who is a "great inspiration in her life." A selection from her Christmas CD, "The Gift Of Love" was a wonderful display of her warm golden voice and atmospheric playing. To wrap up another successful Women's Open Mic Entertainment Night, Lindsey performed the ethereal "It Wasn't His Child" by Skip Ewing.
Thank you to the Women's Open Mic Entertainment Night main sponsors, Katie Histrop Photography and Barbara Forder of Mary Kay Cosmetics for their support. Large prizes were handed out (MaryKay gift basket), (gift basket and 50 per cent off Katie Histrop Photography) and (gift basket and free photo session with Katie Histrop Photography). Helen and Bob Nitransky of Central Music www.centralmusic.ca, regular prize contributors, put a large smile on Linda Bover's face as she picked up a new high performance headset with adapter and a three Hohner harmonica pack.
Thank you to everyone who helped make the Women's Open Mic Entertainment Night a giant success. Thank you to Barbara Forder, Katie Histrop Photography, Kari V., Bronwyn Lane, Alli Fox and Central Music.
Special thanks to Lindsey Mills for bringing the Women's Open Mic Entertainment Night to fruition, for her unending love and dedication to music and for sharing her passion for women in performance with all of us.
The Next Women's Open Mic Entertainment Night will be held on January 28, 2011. Performers can sign up at 7p.m. The entertainment starts runs from 8p.m. until 11p.m. Spread The Word!!! For more information visit
www.WomensMusicNetwork.ca